The Isle of Wight is without doubt a great place to be for family fun and entertainment. Offering so much choice for people of all ages and expectations but you might find that you become overwhelmed with choice when you start looking for things to do. It becomes clear that the Isle of Wight thrives on it's travel industry as they is such a broad range of choice for everyone. Activities include such things as 4×4 driving, paintball, shooting, shopping, museums, galleries, theme parks, beaches and a whole host of other great days out.
This blog post will have a look at a range of great places to go that will really let you get a feel for the Isle of Wight.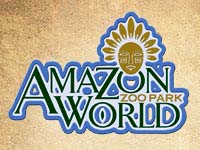 Firstly we'll look at the adventure parks to see what the Isle of Wight has to offer. Option one is Amazon World Zoo which offers a wide range of Tropical birds as well as animals and insects and a few reptiles that live in the Amazon rainforest environment. A warm attraction (ideal for a cold day) and a great place to see a whole host of animals as well as a good falconry display. The park also offers a Jurassic themed adventure themed park and for those of us who are a little less energetic a café to have a rest. 2004 saw the opening of the bat enclosure great for those who want a dimly lit experience.
Second on the list is Fort Victoria. This is a great place to see a range of small exhibitions (one of which is an aquarium) which provide an interesting time in this old Fort. A great way to explore is a walk around the top of the Fort which is completely safe and a great place to see the sights and really take in the local air. There is also a small picnic area for those wanting to have a sit down and a rest. Near the Fort there is a nice walk and could prove to be a great place to go looking for the red squirrels.
Attraction number three is 'Brading the Experience' which is a wax works. The wax work is inside an old rectory mansion that has a thatched roof and 1,000 year old timbers. The attraction itself is host to a large collection of wax models to amuse both adults and children. A chamber of horrors awaits you if you dare venture in there.
There we have some great attractions and if you are looking for a great Isle of Wight Hotel or Sandown Hotel then make sure you do your research.